Your Gifts Matters
Your gift to ETBU makes a positive and lasting impact no matter the size.  Donations support our Christ-centered mission of preparing graduates to be Christian servant leaders in whatever field God calls them to serve.  Contributions help deserving students afford their education.  Gifts to the University impact the lives of people around the world who benefit from our students and graduates who are striving to represent Christ in the world. 
For more information, please contact Advancement at 903.923.2071 or email advancement@etbu.edu.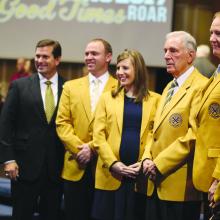 The Lord laid it on our hearts to give back to a place that has been such a blessing in both of our lives. We have made a commitment to support ETBU in whatever capacity is needed. Whether through financial donations or serving on the Young Alumni Council, we are passionate about staying connected to ETBU.
Jacob ('07) and Kelli ('09) Richardson