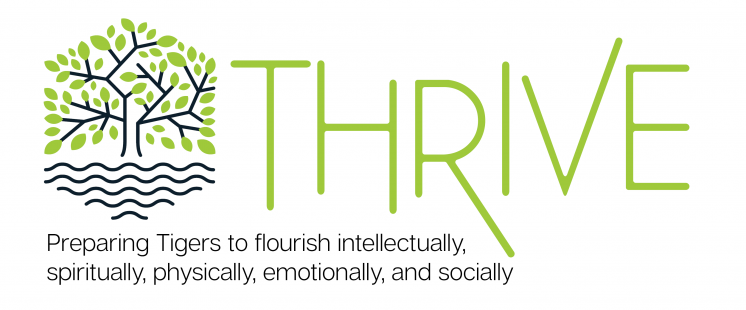 In support of the University's mission to holistically develop students, ETBU has initiated a mentoring program called Thrive to cultivate student success through intentional, one-on-one, and small group mentoring. Thrive prepares Tigers to flourish intellectually, spiritually, physically, emotionally, and socially. New, on-campus, undergraduate students will be offered the opportunity to be paired with a mentor (upperclassman, faculty, or staff member) during their first semester at the University.
Find Your Thrive Mentor
Available to Freshman and First-Year Transfer Students
New undergraduate students at ETBU have the opportunity to link with a Thrive mentor during their first semester on campus. The mentee and mentor will meet regularly (face-to-face or via video chat) to help the student become oriented to the culture and expectations at ETBU.  Mentors and mentees will use the Thrive Playbook to guide their discussions and to alert students to campus resources that will assist with their transition to ETBU.
Be A Thrive Mentor
Available to Sophomore, Junior, and Senior Students
Being a Peer Mentor gives upperclassmen the opportunity to gain leadership and mentorship experience. Here are a few additional benefits:
Become a certified Peer Educator 

Earn an upper-level elective by taking LEAD3101: Peer Mentoring – Becoming a Master Student

Share your wisdom and expertise with a new Tiger.

Fulfill your service-hour requirement for the semester
Find out the answers to Thrive Mentor FAQs here.
If this sounds interesting to you, please click the button below.
Join a Thrive Group 
Available to Sophomores, Juniors, and Seniors
Thrive Groups meet monthly on the fourth Monday at 10:00 a.m. Students will receive chapel credit for attending their Thrive Group.
Sophomore Year | Who Am I? 
Junior Year | Discerning God's Truth
Senior Year | Preparing to Serve & Lead