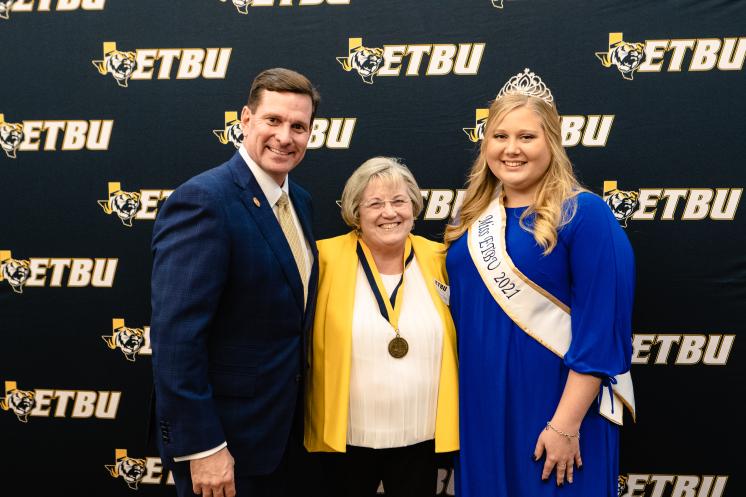 First Baptist Church of Palestine, Texas chose East Texas Baptist College as the destination for its Young Woman's Auxiliary meeting in February 1966.
It marked the beginning of a nearly lifelong relationship between Jeanne Beth (Gibbs) Gray and current-day East Texas Baptist University.
 "In the fall of 1966, I thought I was traveling to Marshall to get a degree but as I rode through the East Texas Baptist College archway I discovered a whole new world was just waiting for me," explained Gray.
In 1968, the ETBU Student Government Association wanted to beautify the Quadrangle through a project to add additional parking with curb and gutter, red brick walkways, landscaping, and a lighted fountain.
"This was really an innovative project for our campus," explained Jeanne of the 'Quadrangle Beautification Program' of 1968.
Each individual SGA member would have to type and send the information and letters to alumni and other donors for the project, which was completed in 1970. That May, Jeanne graduated from ETBC and received her senior class ring at the cost of $31.00 including tax.
Today, Jeanne still contributes to the Quad through the Mark Your Milestone program with a personalized brick that is placed outside of the Ornelas Student Center.
"The milestone brick has been a way that I am able to honor some very special people in my life. It was an opportunity to remember ETBC friends and family members that have had a lasting impression on my life!" said Jeanne.
She and her husband, Dee Gray, were lifelong educators. Dee teaching mathematics for 49 years and Jeanne teaching elementary for 41 years.
"Neither one of us planned on teaching but we enjoyed our teaching experiences," said Jeanne. "We witnessed firsthand that education was the most important method for our students to achieve, be successful, and be happy in whatever avenue of life they chose."
In retirement, Jeanne is still contributing to the education of students as a Pillar of ETBU, the group of core, faithful, and committed monthly donors whose gifts sustain and advance the ongoing Christ-centered mission of the University.
"My experiences at ETBC and the dear friends I met there were all in God's plan. I guess you could say I have had the most wonderful life and have been very blessed!" exclaimed Jeanne.
Learn more about the Pillars of ETBU at www.etbu.edu/info-for/donors/become-pillar.