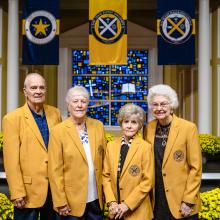 Homecoming Awards Chapel
October 29 | 10:00 a.m.
Every year, the University family gathers in Baker Chapel to honor alumni and friends of the University who have served ETBU in various capacities. Each year, we induct a new class of Golden Blazers, recognize the 50-year reunion class, and honor six alumni for their contributions to their alma mater or society. There is an honoree luncheon immediately following Chapel in Ornelas Student Center.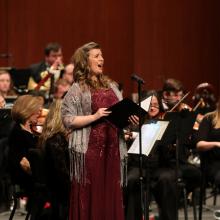 Dinner Theatre at the Grove Amphitheater
October 29 and 30 | 7:00 p.m.
Presented by the School of Communication and Performing Arts, grab dinner from area food trucks and enjoy a performance at the newly constructed Grove Amphitheater. Bring lawn chairs or a blanket and enjoy musical selections from members of the School of Communication and Performing Arts.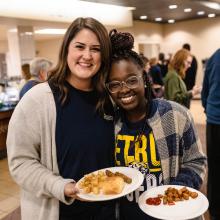 Late Night Breakfast
October 29 | 9:15 p.m.
There isn't anything better than breakfast for dinner! Enjoy some pancakes while you fellowship with your fellow Tiger Alumni in Bennett Student Commons.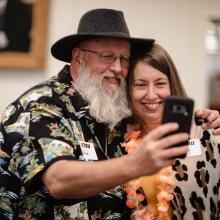 Decade Reunion Brunches
October 30 | 10:00 a.m.
Whether you graduated 50 years ago or 10 years ago, we would love to welcome you back to the Hill. Enjoy complimentary brunch with your fellow Tiger Alumni in the Ornelas Student Center to celebrate your 10, 15, 25, 40 or 50-year reunion.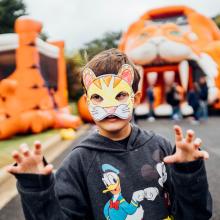 Tiger Family Carnival and Tailgating
October 30 | 10:00 a.m. - 1:00 p.m.
Join us in The Grove for a free and fun time for the whole family. There will be bounce houses, games, and a free lunch. Enjoy spending time with friends before finding your seats at Ornelas Stadium to cheer on the Tigers.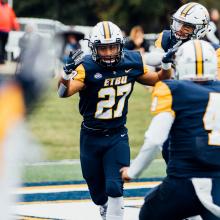 Tiger Football
October 30 | 1:00 p.m.
After you enjoy lunch in The Grove, cheer on the Tigers in an exciting Homecoming match up against Texas Lutheran University. There will be additional Homecoming awards presented at halftime. 
Homecoming 2021
Friday, October 29, 2021
8:00am

Check-in

10:00am

Homecoming Chapel | Golden Blazer & Golden Lightkeeper Ceremony

Baker Chapel, Rogers Spiritual Life Center

11:30am

Homecoming Awards & Golden Lightkeepers Luncheon honoring the Classes of 1970 and 1971

Homecoming Awardees Luncheon
Edwards Conference Center, Rogers Spiritual Life Center

Golden Lightkeepers Luncheon honoring the Classes of 1970 and 1971
Woods/Cornish Great Room, Ornelas Student Center

3:00pm

Campus Tours

Tours take place from 3:00 p.m. - 5:00 p.m. (Chapel on the Hill, Craig Hall, and Bruce Hall)

6:00pm

ETBU Volleyball vs. Hardin-Simmons University

Ornelas Gymnasium, Dean Healthplex

6:00pm

Food Trucks at the Grove

Reasonably priced food trucks will be available for a variety of Tiger tastes at The Grove.

7:00pm

Dinner Theatre at the Grove Amphitheater Presented by the School of Communication and Performing Arts

8:30pm

Tiger Pep Rally & Fireworks

9:00pm

Fireworks

9:15pm

Late Night Breakfast

Bennett Student Commons - $5 per person

Saturday, October 30, 2021
8:00am

Registration

10:00am

Tiger Family Carnival & Tailgating

10:00 a.m. - 1:00 p.m.
Free Cookout at The Grove

10:00am

Reunions

1970s Decade Reunion: 1970 & 1971 Honor Classes | Woods Great Room, Ornelas Student Class
1980s Decade Reunion: 1980 & 1981 Honor Classes | Cornish Great Room, Ornelas Student Center
1990s Decade Reunion: 1995 & 1996 Honor Classes | Calvert Meeting Room, Ornelas Student Center
2000s Decade Reunion: 2005 & 2006 Honor Classes | Huffman Activities Area, Ornelas Student Center
2010s Decade Reunion: 2010 & 2011 Honor Classes | Huffman Activities Area, Ornelas Student Center

10:30am

Tiger Tales: Story Time with Toby & Tabby

11:00am

ETBU Volleyball vs. McMurry

11:30am

Tiger Walk

The Grove
Cheer the ETBU Tiger Football Team to Victory!

1:00pm

ETBU vs. Texas Lutheran University

6:00pm

Food Trucks at the Grove

Reasonably priced food trucks will be available for a variety of Tiger tastes at The Grove.

7:00pm

Dinner Theatre at the Grove Amphitheater Presented by the School of Communication and Performing Arts