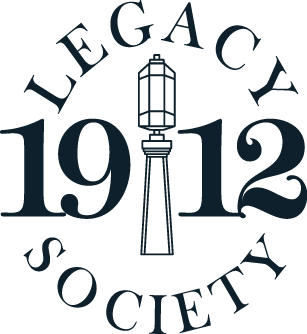 The Legacy of 1912 Society comprises alumni and friends who, through thoughtful estate planning, deferred giving, and other forms of planned giving, ensure that resources will be available to support ETBU far into the future. The Legacy of 1912 Society is named in honor of the year the charter was signed establishing a Christian college in Marshall, Texas, and was initiated in 2012 in recognition of 100 years of providing exemplary Christian higher education. Even as our Centennial celebrations have highlighted our rich heritage, the Legacy of 1912 Society gives tangible expression to the desire for the legacy to endure indefinitely. The impact of planned gifts on the history and future of East Texas Baptist University is immeasurable. Planned gifts include wills, annuities, trusts, insurance policies. These gifts have established scholarship endowments and funded new and improved facilities, to mention only two of the potential benefits. The impact of your own planned gift, which qualifies you for membership in the Legacy of 1912 Society, will last forever and impact generations of students where the light on the hill never dies. Membership in the Legacy of 1912 Society is prestigious. To become a member, please inform us that you have included ETBU in your estate planning and/or designate ETBU as a beneficiary of one of the many types of planned giving options. 
As a distinguished member of the Legacy of 1912 Society, you will be invited to participate in our annual Legacy of 1912 Society event that is held on the ETBU campus in the spring of each year. You will also receive gift-planning communications featuring information about investments, tax and estate planning, and ETBU news.
If you would like to receive more information about joining the Legacy of 1912 Society or to address your question concerning planned giving options, please contact us by phone at 903.923.2071 or email at advancement@etbu.edu.
Legacy of 1912 Members

Dr. Franklin and Barbara Atkinson
Ben and Hilda Bane
Dr. James and Bobbie Best 
Dr. J. Blair and Michelle Blackburn 
Roye and Peggy Blackmon
William and Sara Blaydes
Bess Brumble
Dr. Scott and Natalie Bryant 
Kevin Caffey
Dr. Roger and Sandra Chapman
Lewis and Dolores Clark
George and Jamie Cole
Dr. and Mrs. Ben R. Condray
Margie Dawson
Dr. D.M. Edwards
Ryan and Kristy Erwin
Morris and Maggie Ferrell
Arthur Fineout 
Jeffrey and Brenda Ford
Ronald Forsythe
Lynn Fromm
Charles and Alice Fry
Elizabeth Gill
Annette Harrison
Dr. John and Alice Hatch 
William and Ruth Hoffman
Joe and Marilyn Hogue
Gladys Hudson
William and Barbara Huffman
Dr. Bob and Wanda Johnson
Rhea Lewis 
Olan and Annice Lewis
Donald and Olivia Lewis
Reggie McDonough
Robert and Amy McMichael
Mary Moring 
Dr. Gwin and Brenda Morris 
Sam and Kay Moseley 
Don and Norma Noah
Dr. J. Carl and Charm Norris
Dr. Louise Ornelas
Jay and Sandy Orr
Corbin Priefert 
Jacob and Kelli Richardson
Dr. Thomas Sanders
Larry and Charlotte Slone
Dr. Wilson and Dr. Cheryl Tatum
Dr. Scott and Doris Tatum
Jack and Margaret Unkel
Alton Vaughan
Tommy and Mary Lou Wardell
Elizabeth Watson
J. Steve and Vivian Weeks
Dr. David and Brenda White
Dr. Charles and JoAnn Whiteside
Nell Wilkerson
Kenneth Wright
Frequently Asked Questions
Q: I have already included East Texas Baptist University in my planned giving. Do I need to do anything to let you know?

A: Please share this good news with us by phone at 903.923.2071, or email advancement@ETBU.edu. We want to ensure your gift will be used exactly as you intend, as well as express our gratitude for your gift.

Q: Do I have to say how my gift will be used?

A: It is your gift, so you are welcome to decide how the donation can be used. Many of our supporters create an unrestricted gift that allows the University to use the assets to meet pressing needs. If you wish to support a specific program or fund, please share that information with us so we can apply the gift as you desire.

Q: I am interested in adding a bequest to my will or trust. How do I get started?

A: First, decide how much you would like to give and what assets you want to give. You can fund a planned gift with cash, securities, property, or other assets. Remember even a small amount can make a big impact. Then, share your decision with your attorney/executor to update your estate plan.