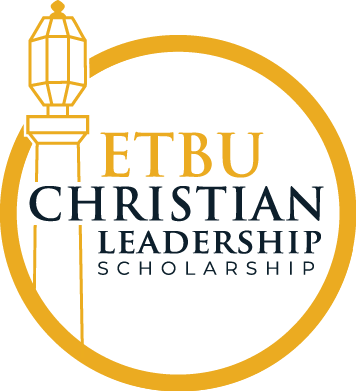 East Texas Baptist University is called to provide a quality Christ-centered education to students. With the help of alumni and friends of the University, ETBU offers scholarships to students based on Christian leadership demonstrated in church, school, and community.  Please consider making a contribution to the Christian Leadership Scholarship program to develop Christian servant leaders to impact the Kingdom.
Over the last century, East Texas Baptist University has educated generations of Christian servant leaders. This year we have over 1,750 students studying at ETBU, volunteering in our community, and going into the world on mission. Help us continue to transform the lives of current and future ETBU students through a contribution to the Blue & Gold Fund. Gifts to the Blue & Gold fund provide support for the University and enhance the student experience, meeting the most urgent needs of our students and institution.
With your assistance, ETBU will continue to attract quality student-athletes and offer them a Christ-centered experience where discipleship, ministry, and missions are central to their spiritual formation. You can take pride in having an impact on the success of Tiger Athletics and the academic, spiritual, and physical development of our student-athletes. 
The Legacy of 1912 Society comprises alumni and friends who, through thoughtful estate planning, deferred giving, and other forms of planned giving, ensure that resources will be available to support ETBU far into the future. The legacy of your planned gift will last forever and support current and future generations of ETBU students.
The Pillars of ETBU are East Texas Baptist University's group of core, faithful, and committed monthly donors. In the same way that the pillars provide strength and support to the various buildings on campus, members of the Pillars of ETBU bolster and fortify the Christ-centered mission and ongoing work of the University through monthly giving. Like all contributions to ETBU, you decide how the gift will be used.
Gifts by Automatic Bank Draft

Your gift to ETBU may be made using an Automatic Bank Draft.  Fill out the form below and email it to advancement@etbu.edu or mail the hard copy to ETBU Office of Advancement, One Tiger Dr, Marshall, TX 75650.  Each month, ETBU will electronically transfer the specified gift from your account, thus eliminating your need to write and send a check. This arrangement may be terminated by your written notice to the Office of University Advancement. We appreciate your faithful support of East Texas Baptist University!

Gift or Pledge by Mail

If you would like to make a gift or pledge by mail, please complete the gift/pledge form at the bottom of the page, print it, and mail it along with your contribution (please make your check payable to "ETBU").

If you make a pledge by mail, it will be recorded upon receipt, and you will receive periodic reminders with a reply envelope to facilitate your gift. If you make a gift by mail, you will receive an acknowledgment letter after your gift is recorded. Pledges and gifts should be sent to the following address:

University Advancement
East Texas Baptist University
One Tiger Drive
Marshall, Texas 75670

Credit or Debit Card Gifts by Phone

You can make a gift or pay your pledge by credit card (MasterCard, VISA, Discover, or American Express). Your donation will be credited the same day we receive your credit card information, and we will mail you an acknowledgment confirming the details of your gift.

If you have any questions, call Advancement at 903.923.2071. Please call between the hours of 8:00 a.m. and 5:00 p.m. CST, Monday through Friday, to give your credit card information. We will need the following information from you to complete your donation:

Your name as it appears on the card
Type of card
Account number
Expiration date
Amount of gift
Daytime telephone number (in case of questions)

Corporate Matching Gifts

The Office of University Advancement for East Texas Baptist University maintains a current database of companies that operate a program of matching the charitable contributions of their employees. In some cases, the match may be three-to-one; however, most matching gift companies will match dollar-for-dollar the amount donated by their employees. This means that your donation to East Texas Baptist University may be multiplied as you help us in our effort to educate true kingdom citizens.

If you have a question as to whether or not your employer participates in this plan, please contact our Office of University Advancement. We look forward to your inquiry.

Give through your Estate

The Legacy of 1912 Society comprises alumni and friends who, through thoughtful estate planning and other forms of planned giving, ensure that resources will be available to support ETBU far into the future.  The Legacy of 1912 Society is named in honor of the year the charter was signed establishing a Christian college in Marshall, Texas.  The impact of planned gifts, which includes wills, annuities, trusts, and insurance policies, on the University's history and future is immeasurable. Click here to learn more.