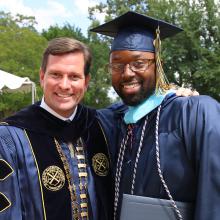 "Within our campus community, students are afforded vast opportunities of fellowship as they learn and grow academically and spiritually."
Dr. J. Blair Blackburn
President
Since June 2015, Dr. J. Blair Blackburn has served as President of East Texas Baptist University. With more than 24 years of diverse experience in university leadership, Dr. Blackburn remains committed to excellence in Christ through academic programs, spiritual development, student involvement, and servant leadership. Prior to ETBU, he served in four other institutions of higher learning, including Dallas Baptist University, University of Texas at Tyler, Lon Morris College, and Paris Junior College.
Dr. Blackburn earned an Associate of Arts from Tyler Junior College, a Bachelor of Science in Political Science from the University of Texas at Tyler in 1991, a Master of Science in Higher Education Administration from Texas A&M University-Commerce, and a Doctor of Education in Educational Administration from Baylor University in 2000.
Though raised in Minden, Louisiana, Dr. Blackburn knows East Texas well after attending Tyler Junior College and living in the area with his family for many years. He and his wife, Michelle, have three children: Taylor, Elizabeth Blair, and Parker.
"While thinking about the family of ETBU, the Greek word, Koinonia, comes to mind. Koinonia translates to English as "community" and "deep fellowship."  Within our campus community, students are afforded vast opportunities of fellowship as they learn and grow academically and spiritually," Dr. Blackburn shared. "At ETBU, our goal is to help students discover who God is calling them to be. The priority of our faculty and staff is for students to know who they are in Christ – to be enriched by engaging their minds, rooted by embracing their faith, empowered by strengthening their leadership, fulfilled by enhancing their community, and to be themselves, knowing they were created to display God's glory."