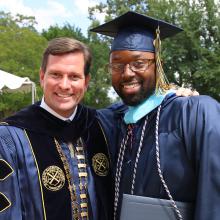 "Our students have been tremendous gifts in each of their chosen vocations that through ETBU, they are encouraged and equipped to harness to serve others with great ability and compassion, just as Christ serves us."
Dr. J. Blair Blackburn
President
Dr. J. Blair Blackburn has served faithfully as President of East Texas Baptist University since June 2015.  Prior to ETBU, he served in four other institutions of higher learning, including Dallas Baptist University, University of Texas at Tyler, Lon Morris College, and Paris Junior College.  With more than 24 years of diverse experience in university leadership, campus operations, administrative affairs, student affairs, athletics, fundraising, and enrollment Dr. Blackburn is equipped and purposed with guiding ETBU to new heights.
Dr. Blackburn earned an Associate of Arts from Tyler Junior College, a Bachelor of Science in Political Science from the University of Texas at Tyler in 1991, a Master of Science in Higher Education Administration from Texas A&M University-Commerce, and a Doctor of Education in Educational Administration from Baylor University in 2000. He has been married to his wife, Michelle Blackburn for 28 years, and they have three children: Taylor, Elizabeth Blair, and Parker.
"Within our campus community, students are afforded vast opportunities of fellowship as they are challenged toward excellence in their calling to God and humanity," Dr. Blackburn shared. "At ETBU, our mission is to educate students through a Christian worldview, rooted in the truth of the Gospel.  It is the focus of our faculty and staff to develop our students into dedicated servant leaders, who use their platform and their callings to be a light for Christ on our campus, in the community, and across the globe."
Blessings from President Blackburn and the ETBU Family to you!