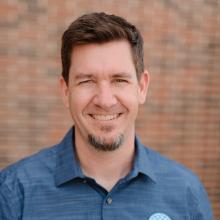 Justin Hayes ('00)
Unsung Hero Award
Justin Hayes is from Orange, Texas. While at ETBU pursuing a degree in Music Education, he met his wife Christie on a mission trip to Germany with the Baptist Student Ministry. They married soon after graduating in 2000 and now reside in Tyler, Texas with their six children. Justin served in youth ministry at Green Acres Baptist Church in Tyler, for ten years. During that time, he attended Southwestern Baptist Theological Seminary and received his Master of Arts in Christian Education. Justin and Christie then served in Uganda for eight years. While working in East Africa, they saw the selfless ways African believers cared for orphans in their communities by inviting them into their humble homes. They knew God wanted to use them as well, so they adopted two children out of foster care. In 2018, Justin helped found The Fostering Collective, which exists to recruit and shepherd Christ-centered families in East Texas to help children in foster care. While serving as Executive Director, Justin and Christie have continued fostering and adopted another child. They see foster care as a wonderful ministry their whole family can share while simultaneously walking alongside other families through the journey.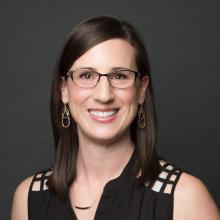 Dr. Leah Chiles Grant ('05)
Young Alumnus Award
Dr. Leah Chiles is a native of Vivian, Louisiana, and graduated from ETBU in 2005 with a Bachelor of Science in Biology. She graduated from Louisiana State University School of Medicine in Shreveport in 2010. Dr. Chiles completed her urologic training in 2015 at Baylor-Scott & White in Temple, Texas, followed by a fellowship at The Medical University of South Carolina in Charleston. She married fellow urologist Dr. Jordan Grant, in 2016 and they are the staff urologists at the Paris Regional Medical Center in Paris, Texas. They reside in Paris, Texas where they are members at Immanuel Baptist Church.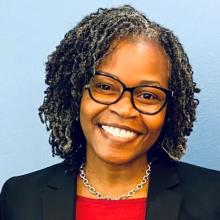 Janice Hearn ('89)
Alumni Achievement Award
Janice S. Hearn is a Bossier City, Louisiana, native and graduated from ETBU with a Bachelor of Science in Business Administration in 1989. Ms. Hearn is the daughter of the late J.W. and Mary Sanders. She is married to her high school sweetheart, Lazar Hearn, and is the proud mother to daughters Ashley and Alicia Hearn. Ms. Hearn is a Program Advisor for Operational Readiness at the Federal Deposit Insurance Corporation (FDIC) in Dallas, Texas. Prior to this position, Ms. Hearn was the Assistant Director of Claims Administration and Customer Service and Records Research for more than a decade, where she oversaw the payment of deposit insurance for failed insured banks in the United States. She began her career with the FDIC in 1990. Ms. Hearn received the FDIC Chairman's Excellence and Honorary Award for Leadership. She attended ETBU on a basketball scholarship, was inducted into the Alpha Chi honor society, and graduated Summa Cum Laude. Ms. Hearn's contributions as a member of Tiger Women's Basketball Team were recognized with her induction into the ETBU Athletics Hall of Fame. Ms. Hearn is a member of North Dallas Community Bible Fellowship Church in Plano, Texas, where she has served as Disciple Leader, Children's Ministry curriculum coordinator, and Nursery Leader.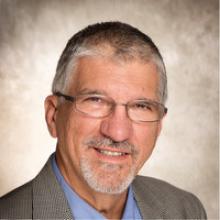 Bob Metcalf ('75)
J. Wesley Smith Achievement Award
Robert L. (Bob) Metcalf is a native of Tomball, Texas, and a 1975 graduate of ETBC with a Bachelor of Arts in Sociology and a minor in Religion. He was a member of Cy-Fair High School basketball team, the first racially integrated team to win a Texas 4A championship in 1971. While at ETBC, he was a guard on the Tiger basketball team and an active participant in BSU and youth-led revival teams. He met his wife of 49 years, Barbara Preston (attended '71-'75), at ETBC. They have two children and six grandchildren. Mr. Metcalf received his MA in Religious Education with an emphasis in Youth Ministry from Southwestern Seminary in 1981. For 28 years, he served churches in Texas, Louisiana, Tennessee, and Arkansas as a youth minister and pastor of education, missions, and administration but had his longest tenure as a Sunday School consultant, event coordinator, and internet editor with the Baptist Sunday School Board (now LifeWay Church Resources) from 1984 to 2003. He retired in 2019 from First Baptist Church Centerton, Arkansas, after 16 years on the pastoral team and the faculty and basketball coaching staff of Life Way Christian School. Today, Mr. Metcalf serves as a Sunday School teacher and with the Disaster Relief volunteers of the Kentucky Baptist Convention through Walnut Memorial Baptist Church in Owensboro, Kentucky. The Metcalfs have been frequent organizers or participants in short-term mission projects to advance the gospel around the globe.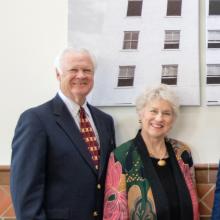 Jerry & Judy Cargill
W.T. Tardy Service Award
Throughout his 47 year career at Glazer's Distributors in Dallas, Jerry Cargill's hometown of Marshall, Texas was never far from his mind. Mr. Cargill began working in sales at age 21 and steadily progressed in the company culminating as the President and CEO for the last 12 years before his retirement. Throughout their lives, Jerry and Judy Cargill have faithfully supported numerous organizations in Marshall and Harrison County and have made a lasting impact on East Texas Baptist University through their generous philanthropic partnership. The Cargill's belief in the mission of ETBU prompted them to donate the Marshall Grand (downtown hotel) to the institution, a building that has been brought back to life and now includes the Teague School of Nursing and Grand Hall on the 8th floor. The Cargills, along with Jerry's brother, Jack Cargill, established the Polly Cargill Nursing Scholarship in honor of their mother to support nursing students at schools in East Texas including students enrolled in the Teague School of Nursing at East Texas Baptist University.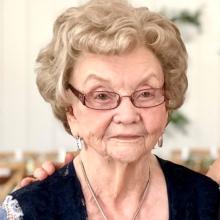 Irene (Brown) Sisk ('48)
Golden Lightkeeper Award
When that big black car pulled up to Irene Brown's home one Sunday afternoon in the summer of 1945, she had no idea her life would change forever. Instead of going to business school as she had planned, ETBC President Dr. H.D. Bruce presented her with a scholarship to attend ETBC, encouraging her to pay it forward one day. Mrs. Sisk graduated from ETBC in 1948 with a degree in Business and Mathematics. That same year, she met and married her husband, Walter Sisk ('50). She taught school after graduation as Mr. Sisk finished his degree at ETBC. She also worked at Bell Helicopter while Mr. Sisk attended medical school at UT Southwestern in Dallas. Later, Mrs. Sisk obtained her nursing home administrator's license and worked in that capacity for several years. Together, Dr. and Mrs. Sisk raised four children while he practiced family medicine in Bonham, Texas, for 43 years. The Sisks were active in their community, serving in Baptist churches in Fannin County as well as members of the Rotary Club, garden club, and hospital auxiliary. In 2020, Irene Brown Sisk made good on her promise to Dr. H.D. Bruce to pay it forward. Through her gifts to ETBU, the Sisk Health Services Clinic at ETBU was established in her honor and in memory of her husband. In addition, she designated funds for an endowed scholarship at ETBU for students pursuing a career in medicine.                      
2022 Golden Blazers: Linda Cliett ('62), Lorre Kauffman ('89), Stacy Kauffman ('89), and Sergio Ramos ('93)
Golden Blazer Recipients Across the Years
2010 GOLDEN BLAZERS
Amon Baker ('51)
Joynelle Baker ('53)
Dr. George Bennett ('43)
B.G. Bockman ('49)
Dr. Frank H. Brooks ('55)
Shirley Brooks ('55)
Barbara Brunt ('60)
J. Frank Brunt ('59)
Pamela Coursey ('83)
Mary Jean Craig ('48)
Dr. Catherine Crawford ('74)
Norma Jean Folmar ('57)
Mary Fortenberry ('50)
Elizabeth Gill ('49)
Lois Grammer ('51)
Col. R. Gene Grammer ('51)
Dr. Harlan Hall ('54)
Gerald Hamilton ('83)
L. Annette Harrison ('51)
Miekle Hoffman ('50)
Joe Hogue ('56)
Gladys Hudson ('47)
Barbara Huffman ('59)
Robert Hurtte ('51)
Dr. Sheila Hurtte ('51)
Charles Kennedy ('68)
Rayford Lewis ('64)
Susan Livingston ('64)
Joe Lovelace ('42)
Ethel Minyard ('57)
Glenda Nelson ('60)
Earle Oldham ('52)
Charles Slaten ('50)
Doyle Taylor ('61)
Earl Taylor ('61)
Margaret Unkel ('54)
Helen Williamson ('43)
2011 GOLDEN BLAZERS
Janell Atkinson ('59)
Anita Everett ('57)
Dr. Bill Everett ('57)
Charles Fry ('50)
Alicia Grohman ('76)
Dr. Tyrell Grohman ('76)
James O. Rogers ('52)
Dr. Jim Teague ('68)
2012 GOLDEN BLAZERS
Dr. Dane Fowlkes ('82)
Lucyann Hopkins ('67)
Paul Tapp ('69)
Carolyn Wilkinson ('67)
2013 GOLDEN BLAZERS
Ned Calvert ('95)
Tim Cline ('90)
Gen. Vernon Lewis ('49-'52, '12)
Katherine Moore Spears ('77)
2014 GOLDEN BLAZERS
Morris Brock ('54)
Dr. E. Leon Carter ('80)
Dr. Billy Foote ('60-65, '09)
Jana Sims ('96)
Mike Templeton ('64)
2015 GOLDEN BLAZERS
Dr. James Best ('55)
Robert Duvall ('63)
Bonnie Hester ('49)
Joe Jones ('52)
Dr. Ben Raimer ('69)
2016 GOLDEN BLAZERS
Dr. Roger Chapman ('43)
Dr. John Hatch ('67)
Alice Hatch ('70)
Dr. Rutledge McClaran ('61)
Dr. Wallace Watkins ('63)
2017 GOLDEN BLAZERS
Barry Hale ('83)
Francis (Eiland) Henderson ('46)
Dr. Tequecie Meek ('73)
Merrill Nelson ('84)
Jacob Richardson ('07)
Kelli (Pruitt) Richardson ('09)
Dr. Rita (Storie) Turner ('48)
Cecil Winn ('61)
2018 GOLDEN BLAZERS
Don Anthis ('67)
Dr. Hollie Atkinson ('59)
Vince Blankenship ('85)
Susan (Brooks) Blankenship ('85)
Dr. J. Brian Nichols ('73)
Paula (Matkin) Nichols ('72)
Martha "Marty" (Hedgecock) Rich ('63
Dr. Will Walker ('03)
Ruthie (Meeks) Walker ('02)
2019 GOLDEN BLAZERS
Dorothy Keasler ('58)
Denie Kendrick ('58)
Charles and Ora Nell Peden ('55, '54)
2020 & 2021 GOLDEN BLAZERS
Natalie Hale ('91)
Kim Hooper ('88)
Gerald Stockton ('79)
Sharon Stockton ('79)
Larry Tidwell ('78)
HONORARY GOLDEN BLAZERS
Jody Justus Anthis
Winky Stark Foote
Peggy Futch