The Department of Chemistry is proud to celebrate the many accomplishments of its majors and minors. Check back often to see what our students are up to!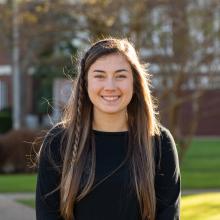 Kaia Williams
Class of 2022
Congratulations to ETBU Chemistry Major Kaia Williams on being named one of this year's Academic Excellence Award recipients. Each year, a few ETBU students are selected for this award and recognized for their Christian character, scholarly accomplishments, and active involvement in ETBU campus life.
When asked about how she balances her responsibilities as a student athlete and a full-time science major, Kaia shared that communication and time management have always been key.
"I think communicating well with professors and coaches is something that has really helped me keep my schedule in order. Managing my time on trips for basketball has been important as well. I realize sometimes I can't do everything that everyone else on the trip is doing if I also want to keep my workload from becoming overwhelming."
Kaia also minors in Forensic Science, and someday plans to have a career within the field.
"After graduating from ETBU, I hope to go to graduate school and pursue a forensic science master's degree. The end goal is to work as a lab technician in a forensic science lab."
Kaia says that Colossians 3:23 has been a constant reminder to her that serving God is the top priority in her life.
"I think it's an important reminder for all college students who are trying to please so many different people—coaches, professors, and parents or loved ones back home. This life is not about earthly things, it's about letting others see Jesus through us and making sure our actions are glorifying Him."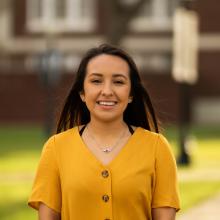 Kayla Garcia
Class of 2022
Congratulations to ETBU Biology major and Chemistry minor, Kayla Garcia, who recently received an opportunity to participate in the SHPEP (Summer Health Professions Education Program) internship program with the UT Houston McGovern Medical School this summer.
"They are going to send us stethoscopes, lab coats, and other supplies so that we can do labs from our homes, and collaborate together through Zoom. They will also have a research project that we will present at the end of the internship to get credit and research experience. We will be learning more about organic chemistry, biochemistry, and different classroom techniques that will emphasize what we've already learned in our courses at ETBU and give us experience in the classes we haven't taken yet."
With her acceptance to the program, Kayla is also excited about the opportunity it presents to prepare for medical school.
"They're going to be helping students with medical school applications and conducting mock interviews. Whenever I officially start doing that, I'll be better equipped because it won't be the first time I'm experiencing the process. They will give me advice on how to improve my application and provide me with everything I need to be successful."
Through her undergraduate studies and college experience Kayla has held on to scripture for motivation and inspiration to pursue her calling.
"'Create in me a clean heart, O God, and renew a steadfast spirit within me.' I repeat that scripture to myself a lot. It reminds me that even though I'm going to make mistakes, encounter people who have different views and lived experiences than I do, and sometimes get knocked to the ground, God will always be with me, giving me the chance to start new each day. Whenever coursework gets difficult, this Scripture reminds me that even though I may feel like I'm not going to be able to make this, God has a plan for me."