Senior Girl Call-Out is East Texas Baptist University's longest running tradition, with 2022 being the 75th annual. More than 1,000 young women have passed this tradition down to their "Little Sisters."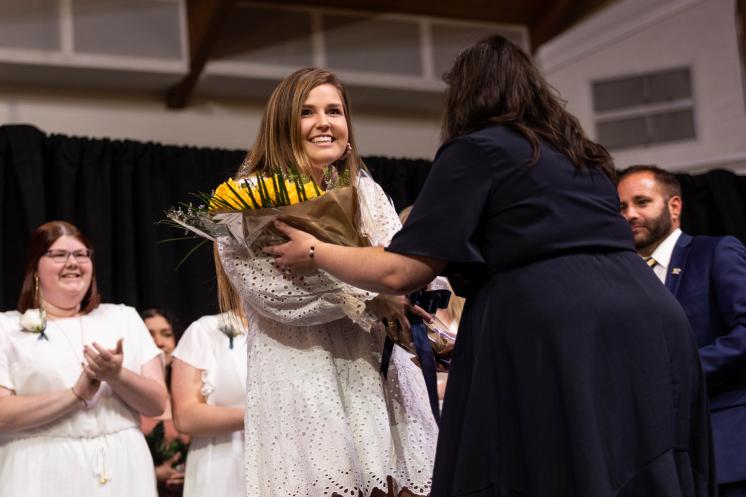 Things You Need to Know About Senior Girl Call-Out
History and Purpose
Senior Girl Call-Out was initiated in 1947 by Miss Sallie Duncan, who was Dean of Women. The script for the ceremony was written by Librarian Dr. Mary K. Armstrong.  This ceremony was established to honor young women of the senior class for their achievements during their time here at ETBU. From all the senior girls who choose to participate in the Call-Out, the ETBU Faculty and Staff select one to honor as the Call-Out recipient. The choice is made based on Christian character, social consciousness, personal poise, academic achievement, and spiritual vision. 
Senior Girl
If you are a female ETBU Student graduating in May of 2022 or December of 2022, you are eligible to participate in Senior Girl Call-Out. 
Little Sister
You may choose a freshman, sophomore, or junior female student to be your little sister. Ask her before you list her on your information form. She also needs to be informed about ALL practices and the event time.
Faculty/Staff Bio Presenter
You may choose a female faculty/staff member to read your bio as you are coming down the aisle in Baker Chapel. You must have this name on your form before submitting it. We will try to meet your request, but presenters may be limited to 4 to 5 participants, depending on the number of names submitted. You are responsible for asking your presenter to read your information. Please ask your female faculty/staff member before you list her on your information form.
Attire
Seniors wear white solid colored nice dresses. Little sisters wear pastel solid colored nice dresses. Dresses should be knee-length or longer. Dresses that are too short are not acceptable. Flip flops should not be worn. Seniors will receive a white corsage to wear. 
Practices
You and your little sister are required to attend practices. If you are an education major, you are excused from student teaching to participate in this event. Just talk to your supervisor and schedule time off with your classroom teacher. Dress Rehearsal will be Friday, April 8 at 10:00 a.m. in Baker Chapel. You do not have to wear your dress, but please take this time to practice walking in your shoes, if needed.
Ceremony Day
Senior Girl Call-Out 2022 will be held on Friday, April 22 at 3:00 p.m. in Baker Chapel.
Seniors, Little Sisters, and Faculty/Staff Presenters - Please arrive at Baker Chapel at 2:30 p.m. Invite your friends and family to attend.
2022 Selection Process
All participants will be selected by ETBU faculty and staff through an online voting platform. Submissions will be due by Friday, April 1 at noon. After faculty and staff vote, the Senior Girl Call-Out 2022 will be announced at a ceremony on Friday, April 22, 2022, at 3:00 p.m. in Baker Auditorium.