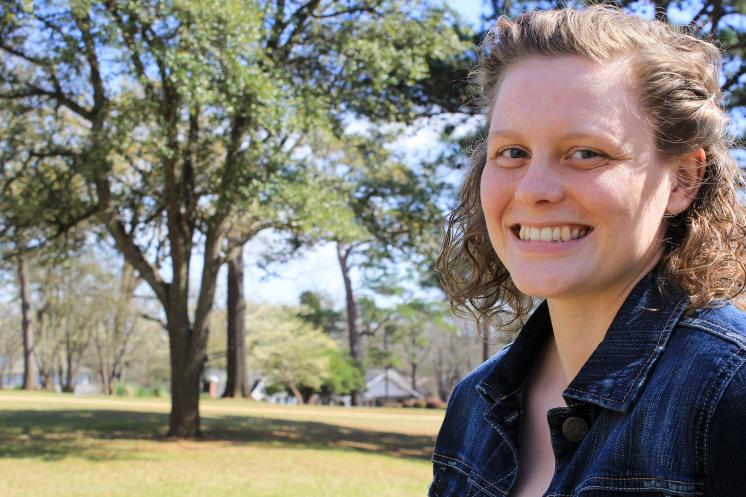 As seen in her service with CentriKid, Friendship Baptist Church, the Baptist Student Ministry, and in the classroom, senior Samantha Busby from Como, Texas, is passionate about sharing the gospel with all, whether in the community or on campus.
Influenced by her sisters' experiences as campers, Busby volunteered as a Team Assistant (TA) for CentriKid Camp, a nation-wide camp focused on bringing youth closer to Christ. The TA position, filled by Busby, allows high school students to shadow a staffer at these camps.
"I just fell in love with the mission of this organization," Busby shared. "I get goose bumps when I think about it." Since completing her summer as a TA, she has been involved in the camp as a staffer, video producer, production leader, and camp director.
"One of my favorite things about Centrikid Camp is that it is rooted in scripture," she added. "That means that after every game you play, you sit down with the kids and relate that game back to a passage of scripture."
Busby was able to apply this concept to her work with the Children's Ministry at Friendship Baptist Church in Marshall. She became involved once she began at ETBU and now helps lead the Children's Ministry on Wednesday evenings.
"She has a kindness and ease about her," Director of Student Success Kelley Paul said. "She is able to gain the students' attention without even raising her voice. I think she is a great example to our children, especially those who may be a little more reserved. Sam's leadership is quiet, but strong and that is a refreshing thing to see."
Initially, she visited ETBU because she was being recruited for basketball. However, Busby explains that she was drawn to ETBU by, "the intentionality that ETBU has with people and the many opportunities for students to serve."
After being on the ETBU Basketball Team for two years, she felt that God was calling her to share the gospel through a different avenue. As a result of stepping away from the Tiger Basketball Team, she had more time and opportunities to serve in ways she wasn't able to before. Moreover, she was able to use her experience as a video producer and sound technician from CentriKid to assist the BSM Release Team. Every week, she is involved in planning the logistics of the student-led worship service. From choosing a speaker to designing engaging games, Busby is focused on building community and enriching relationships for the glory of God.
Although she is actively involved in ministry on and off campus, Busby ensures that her studies stay a priority With a family history of parents, grandparents, and great-grandparents as teachers, she was raised with a strong respect for education.
Busby will graduate December 2017 with a bachelor's degree in International Studies. She has made the Dean's List with Honors every semester. Additionally, she is an active member of Phi Alpha Theta, the National History Honor Society. Professors at ETBU have noticed her dedication and admired her work ethic during her time on the Hill.
"The learning experience is demanding in my courses from historical readings to discussion in the classroom," Professor of History and the Dean of the School of Humanities Jerry Summers said. "In these experiences, Samantha was consistently prepared, ready, and able to contribute as a leader." Busby is an encouragement and example to all who interact with her as she incorporates her faith with her service and scholarship.