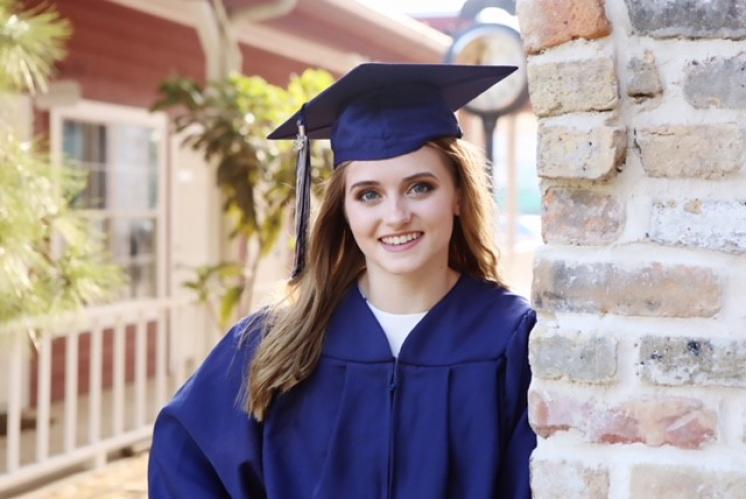 At 11 years old, ETBU freshman Kinesiology major Hailey Strole was diagnosed with a rare childhood brain tumor. The diagnosis resulted in seizures and other complications, limiting Strole's ability to pursue her passion. Since she was five, Strole has participated in gymnastics.
At the time of diagnosis, she was training as a Level 8 competitive gymnast for up to 30 hours each week.
"For her first surgery, Hailey was under for 11 hours," Natalie Strole, Hailey's mother, said. "One of the risks of the procedure was temporary loss of movement on her right side. When she woke up, she was asked to lift her right leg. She not only lifted her leg, but also pointed her toe. Our team in the recovery room learned exactly what type of child they were dealing with. Nothing was going to stop Hailey from reaching her goals."
While following the rules in regard to her recovery, Hailey pushed the boundaries in her physical therapy, longing to return to training.
"Hailey begged to go back to the gym," Natalie commented. "First, we took her just to sit and watch. As her surgeon released her to do more, she would do everything she could. It was hard to watch as a mother, but I learned of the passion that kept her focused on the future." She continued, "I'll never forget the day she was released to go upside down. She did a handstand in the doctor's office! Her comeback was incredible." 
For Hailey, treatment was a lens through which she could see her dream to continue gymnastics.
"My life changed, but to me, it was just an adjustment," Hailey explained. "My initial response to my diagnosis was,
'When can I go back to gymnastics?' I reset my goals every season and planned my future based on those goals. During this time, I realized that my ability to do the sport I loved could be taken away at any time. I also began to realize my testimony could help inspire others to never give up!"
According to Strole, the medical staff, gymnastics community, and her family and friends showered her with love and support. Strole credits her determined spirit to the individuals that made a lasting impact on her life.
"When I think of what hope means to me, I remember my friends, family, and teammates standing around me in a prayer circle before surgery," Hailey said. "I hope that my story and the way that I live my life can be an example for others of what God's amazing grace and love look and feel like."
"Over the past eight years, we've learned the importance of placing focus on the positive things ahead," Natalie shared. "Hailey has new dreams and goals to look forward to now. I'm proud of my daughter and excited for the future she envisions for herself. When Hailey was first diagnosed, her teammates had shirts made that said 'Hope for Hailey.' The word, hope, has conveyed many different meanings to us. Now, we hope for the best life Hailey can live." she attended a Tiger preview event on campus.
"ETBU was the perfect fit for me," Strole shared. "After arriving on campus, God gave my mom and me a sense of peace about the decision. I knew then that God had been leading me to East Texas Baptist. The timing of the new Acrobatics and Tumbling program was an answer to prayer. I feel privileged to be able to be involved and give God all of the glory."