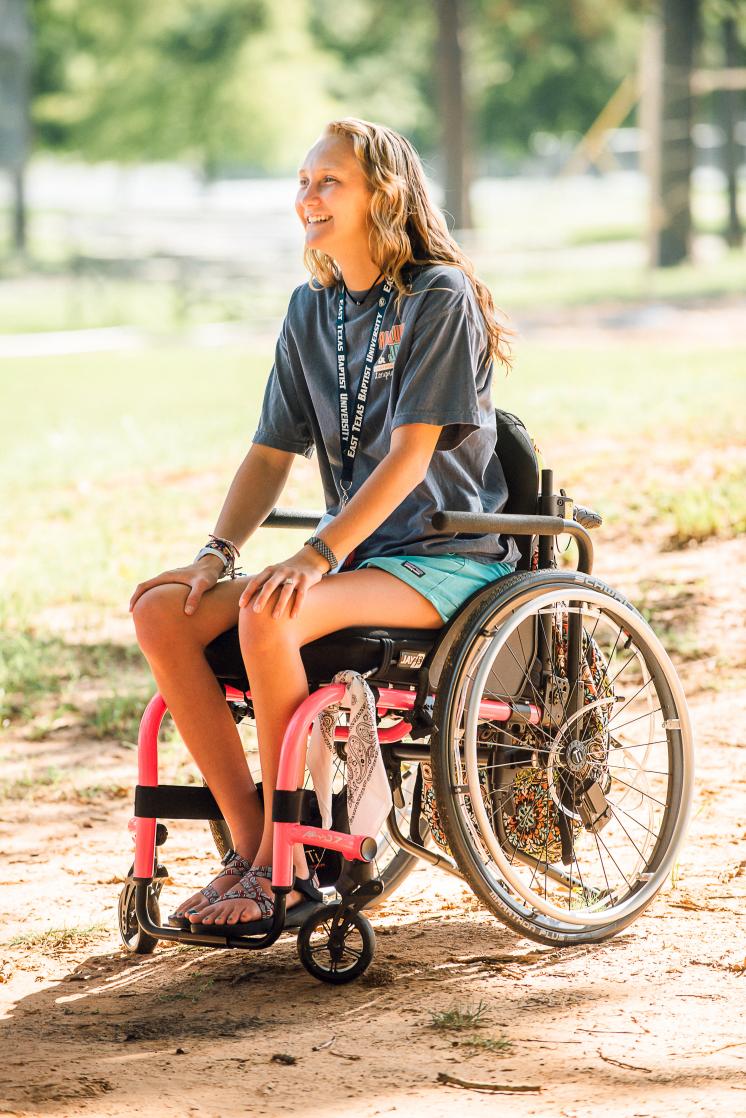 "I chose joy over sorrow, encouragement over discouraging thoughts, and prayer over separation from God." Brooke Dahman Grant, '19  
She was all set to attend ETBU in the Fall of 2015. A little over a year ago, Brooke Grant's life was turned upside down. Her road to ETBU wasn't easy, but it was a new beginning that paved the way for God's love in her life and all those God places in her path. 
The summer after her senior year in high school, now ETBU sophomore Brooke Grant's life changed dramatically. It was her birthday. It was her last day on vacation. It was an eighteenth birthday she will never forget. She remembers waking up to her cousin, Blake, singing Happy Birthday. 
"Adulthood had just begun," Brooke shared. "We loaded up two four-wheelers and started on what I insisted on being an adventure. The Missouri breeze blew through my hair as we burned rubber for hours. The gasoline smell was thick. We were having the time of our lives. Then, boom." 
The next thing Brooke recalls is opening her bloodshot eyes to an unfamiliar room. Her boyfriend, ETBU junior Austin Grant leaned over and kissed her on the forehead. Then, she heard her mother's voice. Over the next few weeks, Brooke faced the solace of an ICU hospital room, being on a ventilator, and the status of her injuries: five facial fractures, a broken left wrist, and a complete spinal cord injury leaving her paralyzed from the waist down. 
"Eighteen years of life went by, and suddenly I became an adult."
From ICU in Missouri to Baylor Hospital in Dallas then to rehabilitation, she endured her therapy sessions with tears and persistence. She knows God directed the hands of her therapists and doctors on her road to recovery. 
"This was the beginning of a different way of life," she shared. "I was a child in so many ways again. I had to learn to get dressed, feed myself, and walk." 
According to Brooke, her struggles through therapy taught her to be totally dependent on God. She knows that He directed her path, and used the small and large victories to prepare her to be the leader she is now at ETBU. 
"Brooke's injury has greatly impacted her spiritual walk and her relationships with other students. And, she would be the first to tell you that," Director of Residence Life Lauren Moore reflected. "Brooke sees her injury as a platform to share the love of Christ and the Gospel with people. The Lord is using it to draw her and others closer to Him." 
After an outpouring of love and support from her chosen University and months of rehabilitation, Brooke started her journey at ETBU in Spring 2016. She quickly stepped in and assumed roles of responsibility and leadership as a Freshman Senator in Student Government, Admissions Office student worker, Tiger Camp leader, and Resident Assistant. She also serves as a life group leader at New Beginnings Baptist Church in Longview. 
"Brooke genuinely loves people and loves the Lord," Director of Transfer Admissions Rob Williams said. "She believes in what the Lord is doing here on the Hill and will stop at nothing to have her part in it. Her unmatched perseverance through any obstacle is one of the most inspiring shows of strength that I have ever seen." 
ETBU has enriched her life with opportunities to serve, and she has enriched the lives of everyone she meets. Brooke has not let her injury slow down her chances for ministry. If anything, she allows her injury to bring others to the Lord and aid her in reaching out. 
"Anyone can see what joy and peace look like through all circumstances when meeting Brooke," Admissions Credentials Coordinator Barbara Taylor explained. "Everyone seeks to find hope through life's struggles, and her sweet smile is a glimpse of that every day when she comes through Marshall Hall." 
Brooke has refused to let her disability separate her from the love and purpose that God has intended for her life. 
"Purpose is a calling; we are called to have purpose," Brooke declared. "In that uncomfortable hospital bed, I chose joy over sorrow, encouragement over discouraging thoughts, and prayer over separation from God. At times, I was tempted to just give up. But now, I run in my heart after God like I never have before."