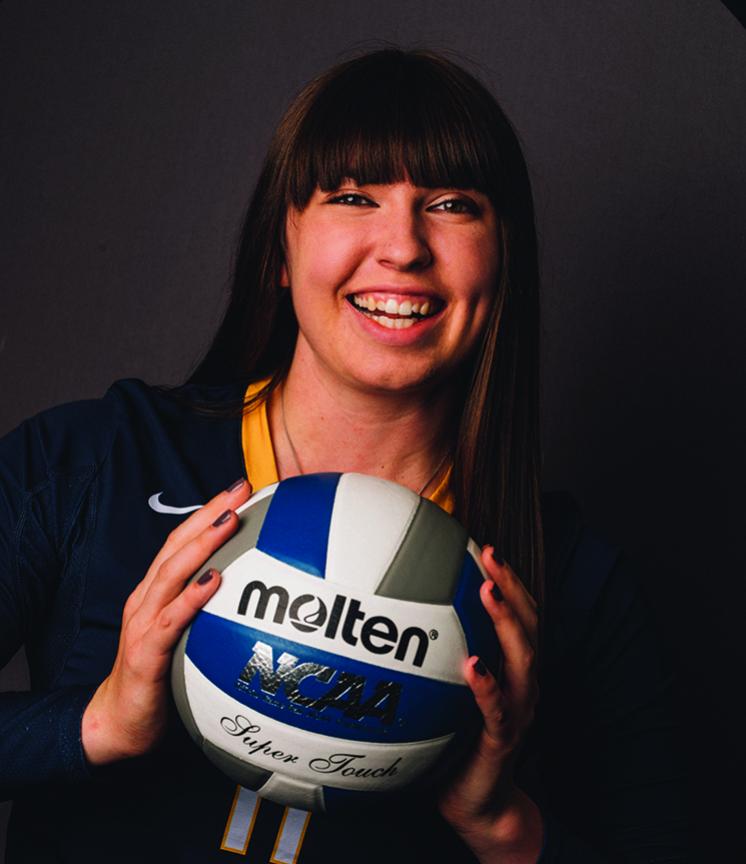 Since Abby Weaver began playing volleyball in fifth grade, she has been committed to work hard and excel. Her talent caught the attention of recruiters at East Texas Baptist University. During the summer after her senior year of high school, she received a call inviting her to visit the ETBU campus.
"At that time, I had narrowed down my choices to three schools," Abby explained. "I anxiously anticipated the visit and was nervous that day. However, as soon as I stepped out of the car, I felt an overwhelming sense of peace. As I continued my tour, I realized that I already felt as though ETBU were my second home."
Throughout her four years at East Texas Baptist, Abby has been a member of the ETBU Volleyball Team. She is an active spiritual campus leader, serving as team captain, President of the Fellowship of Christian Athletes, and a Leadership Fellow. Abby also holds academic honor society membership in Theta Alpha Kappa (Christian Studies and Theology), Pi Gamma Mu (Social Sciences), and Pi Alpha Theta (History). She is an active member at New Beginnings Baptist Church in Longview.
"As a student, being a part of the Lady Tiger Volleyball program has helped me develop time management skills. Not only did I need to push myself on the court, but in the classroom as well. The discipline, work ethic, and desire to improve my performance on the court translated to my life as a student and allowed me to succeed."
The sport of volleyball has enabled Abby to grow as a student-athlete and provides a unique opportunity to express her devotion to the Lord. Whether she is running through drills, encouraging her teammates, or showing respect to an opponent and referee, Abby has used her sport for ministry and a platform for sharing Jesus.
"When I play, I want people to notice something different about my team. I hope others watch us and realize that we play for something bigger than ourselves. Our goal is to glorify God with the talents that He has gifted to us. This sport has taught me how to be a servant leader for the Kingdom and how to put my relationship with the Lord at the forefront of my mind and heart when I complete."
The friendships that she made with her teammates extended beyond the court. Abby lived at the "Flood House," a student ministry house on campus. The name was inspired by Hosea 6:3, "Let us acknowledge the Lord; let us press on to acknowledge Him. As surely as the sun rises, He will appear; He will come to us like the winter rains, like the spring rains that water the earth." Abby and her roommates host movie and craft nights, team dinners, Bible studies, and prayer times for friends and fellow ETBU students.
"My roommates are incredible women of the Lord and have helped create a loving and welcoming environment for all who come over to our campus house. We want the house to be flooded with the Holy Spirit and for people to leave with their cups overflowing. Having roommates that are passionate about the gospel, committed to using their house, sacrificing their time, and willing to do as the Lord says is a genuine testimony to what true community looks like."
Abby's experiences as an athlete, student, and community leader at ETBU has prepared her for a career in international camp ministry.
"Camp is a safe place for youth to step out of their comfort zones, enjoy exciting and creative activities, and learn about the truth of God. I have seen lives transformed in this environment and feel called to serve in this capacity overseas, as the opportunity for children to attend Christian camps is scarce in other countries. ETBU has taught me about culture, missions, communication, and how to apply all of these skills when sharing the gospel of Jesus Christ. I pray that the Lord will use me for His will and continue to prepare me for the next chapter in my life."