WE ARE CALLED TO TEACH
WE ARE CALLED TO GO
God continues to call more and more students to pursue Christ-centered education at ETBU. This enrollment growth necessitated the building of additional housing in recent years, and now additional educational space is needed to accommodate the new generation of ETBU Tigers. After prayer, discussion, and reflection, God etched a strategic vision on the heart of East Texas Baptist University to construct a center for academic learning, spiritual discipleship, business leadership, and career development. Called the Great Commission Center, the building will be the physical manifestation of ETBU's core mission of developing Christian servant leaders and encouraging all believers to fulfill the Great Commission from Matthew 28:18-20. The Great Commission Center will also be home to one of ETBU's largest academic programs, the Fred Hale School of Business. The new Hale School of Business building will serve as a training ground for ETBU graduates to pursue their career callings.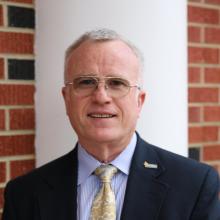 The marriage of the Business School with the Great Commission Program is not just a convenient way to house two departments. It is a recognition of the call of every Christian to make disciples as they go into the world with their God-given vocation, whether that be as an executive, entrepreneur, financial planner, teacher, nurse, physical therapist, coach, or minister. 
Dr. Barry Evans
Dean, Fred Hale School of Business
Issuu
Naming Opportunities

Naming Opportunities

| | |
| --- | --- |
| Great Commission Center | $2,000,000 |
| First Floor | Reserved |
| Second Floor | Reserved |
| Third Floor | $1,000,000 |
| Psalm 37 Steps | $250,000 |
| Colonnade | $250,000 |
| Lecture Hall | Reserved |
| Great Hall | $500,000 |
| The Calling Garden | Reserved |
| Cupola | Reserved |
| "The Great Commission" Sculpture | Reserved |
| Market Student Commons | Reserved |
| Discipleship Hall | Reserved |
| (2) Instructional Classrooms | Reserved |
| Hebrews 10:24-25 Gathering Gallery | Reserved |
| Belfry | Reserved |
| Gable | Reserved |
| Great Commission Suite | $40,000 |
| School of Business Suite | Reserved |
| Innovation Learning Lab | Reserved |
| Dean's Office | Reserved |
| Plaza | Reserved |
| Lobby | Reserved |
| Great Commission Director's Office | $25,000 |
| Career Development Director's Office | $25,000 |
| Faculty Office | $15,000 |
| Student Conference Room | Reserved |
| (3) Group Study Rooms | Reserved |
| Advisor's Office | Reserved |
| The Apostles Portrait Gallery | Reserved |
| Conference Room | Reserved |
| Prayer Room | Reserved |
| Student Study Rooms | Reserved |
| Faculty Resource Room | Reserved |
| Ministry Resource Room | Reserved |
| Career Development Laboratory | Reserved |
| Career Development Interview Room | Reserved |
| Ministry Closet | Reserved |
| Supply Pantry | Reserved |
| Entries (4) | Reserved |
| Study Niches (2) | Reserved |
| Garden Benches | Reserved |
| Plaza Benches (3) | Reserved |
| Study Alcove | Reserved |
| Great Hall Technology Room | Reserved |
| Great Hall Storage Room | Reserved |
| Great Hall Kitchen | Reserved |
| Hall of Honor (Donor Recognition) | $1,000-$2,000 |
Donate to the Great Commission Center