Current Naming Opportunities
"Remember this: Whoever sows sparingly will also reap sparingly, and whoever sows generously will also reap generously. Each of you should give what you have decided in your heart to give, not reluctantly or under compulsion, for God loves a cheerful giver. And God is able to bless you abundantly, so that in all things at all times, having all that you need, you will abound in every good work." 2 Corinthians 9:6-8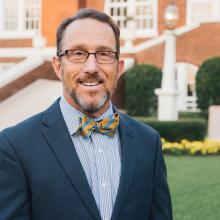 "In honor of Dr. Craig's commitment to academic resources for excellence during his tenure at our home on the Hill, ETBU invites alumni and friends of the University to join us as we extend his legacy by showing CARE for Craig Hall. 
Your support will provide our current and future students with the modern educational space needed to develop skills for their callings. East Texas Baptist will invest an estimated $500,000 to create this contemporary learning environment. Renovation is set to begin in Spring 2019 with planned completion in Spring 2020. 
I invite you to partner with us to pay tribute to Dr. Craig's presidential leadership and provide our students with 21st-century educational space."
Dr. Thomas Sanders, Ph.D.
Provost and Vice President for Academic Affairs
Naming Opportunities for Craig Hall

| Opportunity | Cost |
| --- | --- |
| Donor Wall | 1,000 |
| Study Benches (4) | 2,500 |
| Advising Lobby | 2,500 |
| Lab Supply Room | 5,000 |
| Dean's Reception | 5,000 |
| Advisor Office | 10,000 |
| Kitchen | 10,000 |
| Faculty Offices (5) | 15,000 |
| Foyer | 20,000 |
| Dean's Office | 20,000 |
| Staircase | 25,000 |
| Administrative Suite | 25,000 |
| Classrooms (3) | 50,000 |
| Instructional Technology Classroom | 75,000 |
| Outdoor Kinesiology Lab | 75,000 |
| Athletic Training Lab | 100,000 |
Brochure