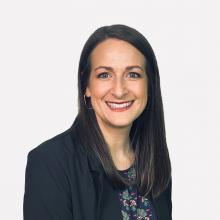 Katie Gravens
Guest Speaker
Katie Gravens is the wife of Jeff Gravens and mother to a spirited nine-year-old, Abigail, and a fun-loving five-year-old, Wesley. She spent six months as a missionary in the Horn of Africa, over a decade in Collegiate ministry, and the last 31 years passionately pursuing Jesus. Katie lives in Sulphur Springs where she ministers alongside her husband who has pastored First Baptist Church of Sulphur Springs since 2019. She has a bachelor's degree in Elementary Education from Stephen F. Austin State University and a Masters of Divinity from Baylor's Truett Seminary. Katie's passion is seeing people come to an understanding of what it truly means to follow Jesus. 
Spring 2021 Women's Summit Schedule
Tuesday, March 9, 2021
8:00pm

Ignite (Women Only)

Ignite will be held in Baker Chapel of the Rogers Spiritual Life Center. A dessert reception will follow in the Edwards Conference Room.

Wednesday, March 10, 2021
10:00am

Chapel

Chapel will be held in the Baker Chapel of the Rogers Spiritual Life Center and will also be available via online streaming.

12:00pm

Women's Luncheon

Lunch will be served in the Woods Great Room of the Ornelas Student Center. Lunch is free and open to all female ETBU Students who R.S.V.P. below by Wednesday, March 3.