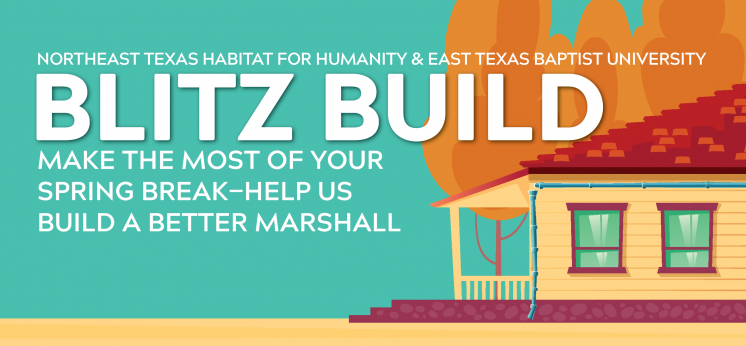 Make the most of your Spring Break – help us build a better Marshall.
In support of East Texas Baptist University's Neighborhood Renewal Initiative, ETBU is partnering with Northeast Texas Habitat for Humanity to execute ETBU's first Blitz Build in Marshall during Spring Break 2020 (March 9 –13). Habitat for Humanity's Blitz Build projects bring volunteers together to provide safe and affordable housing for families in need of a decent place to call home. ETBU secured two vacant lots near the campus in our efforts to provide affordable, quality housing for local families. ETBU has donated the lots in support of the Blitz Build program.
Volunteer for the whole week, or choose the days and times that fit with your schedule. Project hours will be 8:00 a.m. – 5:00 p.m., Monday through Friday. Breakfast, snacks, and lunches provided daily. We need as many hands as possible to make this Blitz Build successful. All are welcome, no experience necessary.
But He's already made it plain how to live, what to do, what God is looking for in men and women. It's quite simple: do what is fair and just to your neighbor, be compassionate and loyal in your love. Micah 6:8
Join the ETBU Neighborhood Renewal Initiative Team to make the difference in the life of a family and help us illuminate the Light of Jesus through service to our community.
We are looking for volunteers. Please sign up below.
Volunteer Sign-Up Form for Blitz Build