MEN ON BOATS
by Jaclyn Backhaus
Ten explorers.  Four boats.  One Grand Canyon.  Men on Boats is the true(ish) story of an 1869 expedition, when a one-armed captain and a crew of insane yet loyal volunteers set out to chart the course of the Colorado River.  The catch?  Their story is played entirely by women.  This comedic satire, reviewed as "off-the-canyon-walls funny," is not to be missed. 
Thursday, February 21 at 7:30 P.M.
Friday, February 22 at 7:30 P.M.
Saturday, February 23 at 7:30 P.M.
Sunday, February 24 at 2:30 P.M. (matinee)*
*Sunday's performance is sponsored in part by the Marshall Regional Arts Council.
East Texas Baptist University Campus
Jenna Guest Music Building
Mabee Recital Hall
One Tiger Drive
Marshall, Texas 75670

$10.00 General Admission | Free with an ETBU ID
No Reservations Required | Tickets Available at the Door
Suitable for adolescent and adult audiences.
Join the cast and production staff for a short talk-back following each performance.  

Need more information?  Click the button below.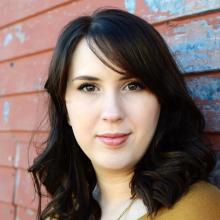 Samantha Pettigrew
Director
Samantha Pettigrew joined the Theatre Arts staff in 2016. A native of Scurry, Texas, she graduated in December 2015 from ETBU with a Bachelor of Arts in Theatre with a Performance concentration. Samantha has served as costume designer for Iphigenia 2.0, A Midsummer Night's Dream, Fiddler on the Roof, The Christians, Moon Over the Brewery, Hedda Gabler, and A Christmas Carol. As an actress, she appeared in Pride and Prejudice (Charlotte Lucas), A Piece of My Heart (Whitney), The 39 Steps (Annabella Schmidt), Urinetown (Josephine "Ma" Strong), Proof (Claire), Iphigenia 2.0 (Bridesmaid 1), The Heiress (Catherine Sloper), Fiddler on the Roof (Tzietel), and Bus Stop (Grace). At ETBU, Samantha has directed Almost, Maine; These Shining Lives; and Moon Over the Brewery.
_________________________________________________________
Production Staff
Scenic Designer - Irene Nguyen
Lighting Designer - John Dement
Sound Designer - Judah Armour
Costume Designer - Samantha Pettigrew
Assistant Costume Designer - Audrey Staples
Hair and Make-Up Designer - Karli Hubbert
Technical Director - Trace Craver
Stage Manager - Audrey Staples
Assistant Stage Manager - Jordan "Jo-Jo" Guerra
Jenna Guest Music Building